"From the Battles of Rashfond, to the Peacekeeping of Parliock, to our very own Clone Wars, the lightsaber is a Jedi's only true ally."
―Huyang, to a class of Jedi Younglings
The Battles of Rashfond were a series of battles that were fought at some point prior to the Clone Wars.[1]
The conflict
Edit
The conflict involved the Jedi Order.[1]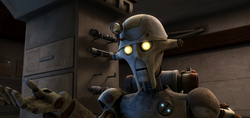 During the Clone Wars, the droid professor Huyang recalled the Battles while remembering conflicts the Jedi Order had involvement in.[1]
Appearances
Edit
Notes and references
Edit