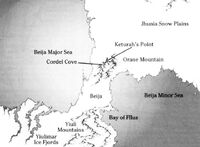 Beija was a narrow piece of land connecting the Jhunia snow plains to the Yiulimar Fjords, on the ice planet of Neftali. It separated the Beija Major Sea and the Beija Minor Sea. The Bay of Fflus was located on the eastern coast. Beija was home to the tallest mountain on the planet, Orane, as well as Cordel Cove spaceport.
Ad blocker interference detected!
Wikia is a free-to-use site that makes money from advertising. We have a modified experience for viewers using ad blockers

Wikia is not accessible if you've made further modifications. Remove the custom ad blocker rule(s) and the page will load as expected.