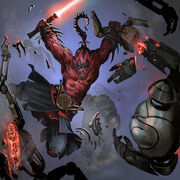 Ben Wootten is an artist who has provided illustrations for various Star Wars Roleplaying Game Saga Edition sourcebooks for Wizards of the Coast. He has also provided artwork for the Star Wars Galaxies Trading Card Game.
Star Wars bibliographyEdit
Star Wars Roleplaying GameEdit
Star Wars Galaxies TCGEdit
External links
Edit
Ad blocker interference detected!
Wikia is a free-to-use site that makes money from advertising. We have a modified experience for viewers using ad blockers

Wikia is not accessible if you've made further modifications. Remove the custom ad blocker rule(s) and the page will load as expected.