The Big Gun Turret was a ground emplacement weapon used by the Galactic Empire during the Liberation of Gerrard V.
Description
Edit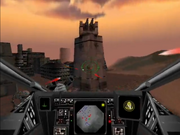 The Big Gun Turret was similar to the XX-9 heavy turbolaser and the XX-10 turbolaser tower. However, it featured a much larger base, allowing it to target starfighters over top of the buildings on Gerrard V. It also had a much thicker armor than the XX-9 Turbolasers, and a larger field of view, allowing it to hit targets closer to the ground. It fired in volleys as opposed to steadily like typical turbo-lasers.
The Big Gun Turret destruction was one of the objectives for Rogue Squadron during the Liberation of Gerrard V. It was destroyed by Luke Skywalker towards the end of the battle.
Appearances
Edit
Ad blocker interference detected!
Wikia is a free-to-use site that makes money from advertising. We have a modified experience for viewers using ad blockers

Wikia is not accessible if you've made further modifications. Remove the custom ad blocker rule(s) and the page will load as expected.