Bin Prime was the capital city of Balmorra.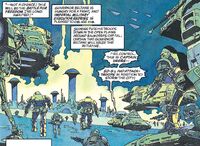 It was the headquarters of planetary governor Beltane during his administration under the Imperial occupation of the planet. Despite their income from producing Imperial war machines, Beltane wanted Balmorra free from the Empire. After the Battle of Endor, the world broke away from Imperial influence. During Operation Shadow Hand, it was attacked by Executor Sedriss QL, who sent an invasion army towards the capital. Bin Prime was saved by the numerous technological achievements Balmorra had made in the intervening years, as new battle droid models held the force at bay, before they could reach the fortified city's borders.
Appearances
Edit
Ad blocker interference detected!
Wikia is a free-to-use site that makes money from advertising. We have a modified experience for viewers using ad blockers

Wikia is not accessible if you've made further modifications. Remove the custom ad blocker rule(s) and the page will load as expected.