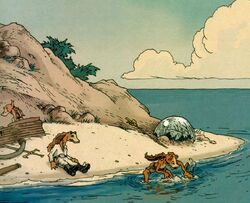 "Nitwit! These are not the bones of sea serpents! These are the bones of all my ruined hopes, strewn about this barren rock! I name this island 'Binks's Woe!'"
Binks's Woe was an island in the southernmost seas of Naboo. George R. Binks, his wife and their son Jar Jar spent at least a month shipwrecked there.
Appearances
Edit
Ad blocker interference detected!
Wikia is a free-to-use site that makes money from advertising. We have a modified experience for viewers using ad blockers

Wikia is not accessible if you've made further modifications. Remove the custom ad blocker rule(s) and the page will load as expected.