A bipod was a two-legged stand that was attached to the barrel of a rifle or a heavy weapon. It steadied the weapon to facilitate aiming and firing. Normally, it was used while prone or adjacent to waist-high or chest-high cover. A bipod could also be used as a mount for heavy weapons such as heavy repeating blasters.[1]
Behind the scenes
Edit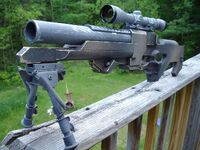 The image shows a custom-made Verpine sniper rifle with a bipod, made by the U.S. soldier Raymond Ramirez, a fan with a special connection to Karen Traviss and Star Wars. He made a Verpine sniper rifle on Karen Traviss' request which she posted on her livejournal.com blog - the entry has, unfortunately, been deleted, but an image of the weapon can be found at photobucket. Ramirez's blog has been featured on StarWars.com[2], where a smaller image of the Verpine sniper rifle with bipod can be found. One of his blog entries goes deep into the weapon's functions.
Appearances
Edit
Notes and references
Edit
↑  Featured Blog: Mando'ade and Their Toys on StarWars.com (content now obsolete; backup link)
External links
Edit
Ad blocker interference detected!
Wikia is a free-to-use site that makes money from advertising. We have a modified experience for viewers using ad blockers

Wikia is not accessible if you've made further modifications. Remove the custom ad blocker rule(s) and the page will load as expected.