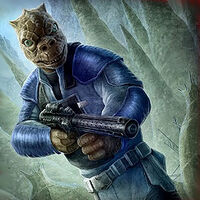 The Blackscale or Blackscale Clan were the ruling Trandoshan clan on Kashyyyk during the Galactic Civil War. They oversaw the capture of Wookiee slaves, from their compound north of Kachirho and the Avatar Orbital Platform in orbit above the planet. They were led by Lord Cyssc Blackscale and had a long-standing feud with the rival Zssik Clan.
Behind the scenes
Edit
The Blackscale Clan appeared in the video game Star Wars Galaxies, a massively multiplayer online-role playing game developed by Sony and published by LucasArts, prior to its closure on December 15, 2011.
Appearances
Edit
External links
Edit
Ad blocker interference detected!
Wikia is a free-to-use site that makes money from advertising. We have a modified experience for viewers using ad blockers

Wikia is not accessible if you've made further modifications. Remove the custom ad blocker rule(s) and the page will load as expected.