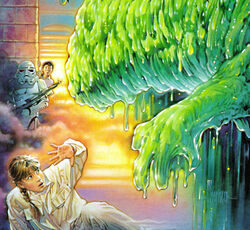 A blob was the nickname for a gelatinous, green creature from Gobindi. These creatures were not native to the jungle as the residents thought. They were actually the result of a virus created by Borborygmus Gog, an Imperial bio-scientist. The virus, unlike most, thrived on heat, such as the natural body heat created from angry feelings as well as Gobindi's climate. Gog would capture beings and inject them with the virus. The area where the shot was injected would swell up and soon spurt green goo. The goo would cover the body and turn them into a blob.
Tash Arranda and her brother Zak uncovered the Imperial plot and fled the planet.
Appearances
Edit
Ad blocker interference detected!
Wikia is a free-to-use site that makes money from advertising. We have a modified experience for viewers using ad blockers

Wikia is not accessible if you've made further modifications. Remove the custom ad blocker rule(s) and the page will load as expected.