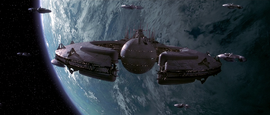 A blockade was when a military or another entity stationed a fleet in orbit around a planet in order to prevent the coming and going of starships. The Trade Federation would blockade the peaceful world of Naboo in order to pressure its leader, Queen Padmé Amidala, to sign a petition treaty. This would escalate into the Invasion of Naboo.[1] The Corporate Alliance would blockade the planet Malastare, leading the Galactic Republic in dispatching a Jedi-led task force that would destroy their fleet. Admiral Trench, the same commander responsible for the blockade of Malastare, would lead the Separatist Alliance's blockade of Christophsis. The fleet would be annihilated after the destruction of his flagship, the Providence-class dreadnought Invincible, by an experimental stealth ship, allowing a Republic naval fleet to destroy the blockade.[2] Later in the conflict, a fleet led by Captain Mar Tuuk would blockade Ryloth, though his forces would be destroyed by the Republic.[3]
The Galactic Empire established a blockade around the planet of Lothal due to heavy rebel activity there.[4]
After The Disaster, the Galactic Empire blockaded the Alderaanian graveyard.[5] After the Battle of Endor, Imperial governor Adelhard initiated the Iron Blockade of the Anoat sector.[6]
Appearances
Edit
Notes and references
Edit