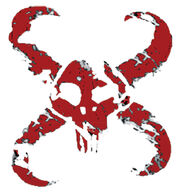 "By the Bloody Bones, I swear I will be true and loyal to you or forfeit will be my life."
―Rav reciting the Bloody Bones oath.
The Bloody Bones were the insignia of the pirate Rav, composed of two crossed red bones, and feared throughout the galaxy. Cade Skywalker added a skull to his tattoo, thus making the symbol his own.
Appearances
Edit
Ad blocker interference detected!
Wikia is a free-to-use site that makes money from advertising. We have a modified experience for viewers using ad blockers

Wikia is not accessible if you've made further modifications. Remove the custom ad blocker rule(s) and the page will load as expected.