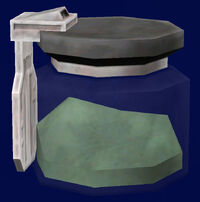 Blueleaf was a common shrub found on the moon Yavin 4. It grew extensively around the Massassi ruins on the moon, and its essential oils were a stimulant known to enhance the perception of those imbibing it. Blueleaf had cobalt-colored leaves arranged in a whorled pattern of five to eight clusters. It had a distinct fragrance that made identification of the shrub easy, and it could grow up to a meter tall. It grew particularly well in glades, and used suckers to spread itself, forming a dense groundcover.[1]
They were known for their ability to encroach even on cleared spaces, and were edible. When crushed, they gave off a spicy scent. The Massassi of the moon built a temple on which they carved images of the shrubs. On Ithor, blueleaf shrubs were grown in beautiful and elaborate gardens.
Appearances
Edit
Notes and references
Edit
Ad blocker interference detected!
Wikia is a free-to-use site that makes money from advertising. We have a modified experience for viewers using ad blockers

Wikia is not accessible if you've made further modifications. Remove the custom ad blocker rule(s) and the page will load as expected.