Boba Fett: Enemy of the Empire is a TPB collection of the four issues in the Boba Fett: Enemy of the Empire mini-series. It also includes a standalone comic Boba Fett ½: Salvage.
Publisher's summary
Edit
Before the events of A New Hope, Darth Vader employs Boba Fett, on a mission to discover and bring to Vader a single small box, the contents of which could change the fate of the galaxy. But there's a catch: Vader trusts no one, and the truth of the box's mystery is too important to allow the bounty hunter to live! When Fett retrieves the prize, he finds himself the target of more of Vader's thralls. Also includes the hard-to-find 1997 Wizard magazine exclusive, Boba Fett #½.
Collected issues
Edit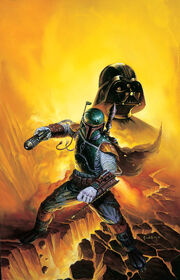 Ad blocker interference detected!
Wikia is a free-to-use site that makes money from advertising. We have a modified experience for viewers using ad blockers

Wikia is not accessible if you've made further modifications. Remove the custom ad blocker rule(s) and the page will load as expected.