Ad blocker interference detected!
Wikia is a free-to-use site that makes money from advertising. We have a modified experience for viewers using ad blockers

Wikia is not accessible if you've made further modifications. Remove the custom ad blocker rule(s) and the page will load as expected.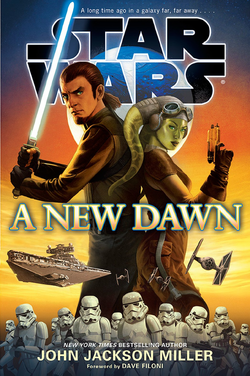 A list of all Star Wars books. This includes all film novelizations, novels, comics, young readers, reference books, and roleplaying sourcebooks. All books are presented here in in-universe chronological order, as opposed to real-world release dates.
See also: Timeline of canon books
See also: Timeline of Legends books
21 BBY
20 BBY
18 BBY
14 BBY
11 BBY
6 BBY
0 ABY
4 ABY
28 ABY
34 ABY
25,793 BBY
5,000 - 2,975 BBY
5,000 BBY
4,985 BBY
4,975 BBY
3,960 BBY
3,954 (Part One) 3,950 (Part Two) 3,900 (Epilogue)
3,653 BBY
3,645 BBY
3,643 BBY
3,640 BBY
3,000 BBY
2,975 BBY
1,032 BBY
1,003 BBY - 1,000 BBY
1,000 BBY - 990 BBY
980 BBY
89 BBY (Part 1) 76 BBY (Part 2) 44 BBY (Part 3) 22 BBY (Part 4)
67 - 65 BBY (Part 1) 54 - 52 BBY (Part 2) 34 - 32 BBY (Part 3)
51 - 21 BBY
44 BBY
44 BBY (Part 1) 29 BBY (Part 2)
44 BBY - 9 ABY
43 BBY
41 BBY
40 BBY
39 BBY (Part 1) 29 BBY (Part 2)
39 BBY (Part 1) 22 BBY (Part 2)
39 BBY - 4 ABY
33 BBY
33 - 32 BBY
32 BBY
29 BBY
28 BBY
27 BBY
25 BBY
24 BBY
23 BBY
22 BBY
21 BBY
20 BBY
19 BBY
18 BBY
18 - 17 BBY
15 BBY - 4 ABY
10 BBY
5 - 4 BBY
5 BBY - 10 ABY
3 - 2 BBY
3 - 0 BBY
2 - 1 BBY
2 - 0 BBY
1 BBY
0 BBY - 18 ABY
0 BBY
0 ABY
1 ABY
2 ABY
3 ABY
3 - 4 ABY
4 ABY
5 ABY
6 - 7 ABY
7 ABY
7 - 8 ABY
8 ABY
9 ABY
11 ABY
12 ABY
13 ABY
14 ABY
16-17 ABY
17 ABY
18 ABY
19 ABY
22 ABY
23 ABY
24 - 25 ABY
25 ABY
26 ABY
27 ABY
28 ABY
28 - 29 ABY
35 ABY
36 ABY
40 ABY
41 ABY
43 ABY
44 ABY
45 ABY
Short story collections
Edit
See also: List of short stories
Comic books
Edit
Young readers
Edit
Junior novels
Edit
Adaptations of Film
Edit
Miscellaneous
Edit
Junior Novelizations
Edit
Mighty Chronicles film adaptations
Edit
Movie Storybooks
Edit
Star Wars Adventures game books
Edit
Star Wars Science Adventures books
Edit
Special Edition Golden Look-Look books
Edit
DK Readers
Edit
Jedi Readers
Edit
Coloring/activity books
Edit
Pop-Up books
Edit
Other Young Reader books
Edit
Art books
Edit
Film art books
Edit
Making-of books
Edit
Reference books
Edit
First Generation
Edit
Second Generation
Edit
Third Generation
Edit
Collections
Edit
Miscellaneous
Edit
Roleplaying sourcebooks
Edit
Sourcebooks
Edit
Galaxy Guides
Edit
Thematic supplements
Edit
Miniatures
Edit
Revised Edition
Edit
Saga Edition
Edit
Canceled books
Edit
The New Jedi Order
Edit
Other books
Edit