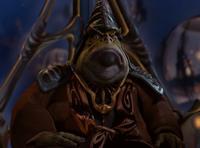 "We're with you, Boss!"
―Wedge Antilles
Boss was the title given to the leader of a Gungan community. The Boss of Otoh Gunga was the Head of State, Head of Government and civilian Commander-in-Chief of their society.
Boss was also a rank of the Reborn. Bosses wore black and red robes. They were a combination of all the different Reborn divisions. They were the second highest level, an elite of the organization. Capable of using the Force adeptly and able to counter a Jedi's lightsaber skills; they were Desann's best men along with Galak Fyyar's Shadowtroopers.
Starfighter pilots sometimes addressed their commanders as "Boss."
Gungan Bosses
Edit
Appearances
Edit
Ad blocker interference detected!
Wikia is a free-to-use site that makes money from advertising. We have a modified experience for viewers using ad blockers

Wikia is not accessible if you've made further modifications. Remove the custom ad blocker rule(s) and the page will load as expected.