Bree Starlighter
Talk

3
109,652pages on
this wiki
Bree Starlighter
Physical description
Species
Gender
Hair color
Skin color

Fair[1]

Chronological and political information
Era(s)
Affiliation
"Bree Starlighter here, chief of holocommunications for Star Tours. Ready to make the jump to hyperspace and travel to the galaxy far far away? Then climb aboard a StarSpeeder 1000 today."
―Bree Starlighter in an advertisement for Star Tours
Bree Starlighter, nicknamed Princess of PR, was a female Human. She was the chief holocommunications officer for the interstellar Star Tours travel agency, featuring in advertisements produced by the company. She worked for Star Tours sometime between 2 BBY and 0 BBY.
Biography
Edit
Starlighter was a Human female[1] who, during 2 to 0 BBY,[2] worked for the space travel company Star Tours, in the position of chief holocommunications officer.[1]
Around this time, Bree Starlighter was responsible for unveiling Star Tours' first hub on the Earth system, with two of her co-workers as guests, droids C-3PO and R2-D2. She held the ceremony, answered questions from the public and booked flights.[3]
Starlighter would occasionally travel accompanied by members of the Wookiee species to promote their homeworld of Kashyyyk as a tourist destination, as a way of convincing skeptics that Wookiees were not aggressive towards strangers, contrary to popular belief.[4]
Personality and traits
Edit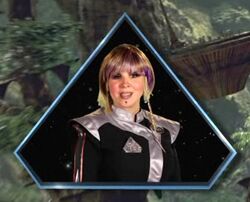 "Of course we don't expect any issues! The Empire is great! Their involvement is great! The Emperor is great! Everything is great!"
―Bree Starlighter on the launch of Earth's new Star Tours hub
Being a public face for Star Tours, Starlighter was generally an upbeat and energetic person, affectionately known as "Princess of PR." She shared a good relationship with fellow co-working droids C-3PO and R2-D2, whom she considered "two of her favorite employees." She also believed in the concept of the Force, and publicly stated so while on duty.[3] During 2 to 0 BBY, Starlighter expressed support for the Sith Lord Darth Vader and the Galactic Empire,[5] the dominant power in the galaxy at that time.[6] She hinted, however, that Star Tours had a few "run-ins" with Vader, to which she later denied, stating that he was "great" and a "positive force for change."[5]
She had fair skin, and sported blonde and purple hair with braids. She was also known for wearing on occasion rings, bracelets, earrings and black-colored accessories near her lips and around her eyes.[7] While employed, Bree Starlighter wore at least two distinct uniforms, one blue with a company pin[5] and another black and silver, with metallic-looking pins of her name tag in High Galactic alphabet and the Star Tours logo in Aurebesh.[7]
Behind the scenes
Edit
The Public Relations officer Bree Starlighter was portrayed by a live-action actress during the Star Tours: The Adventures Continue promotional mall tour in four cities, six days before the launch of the revamped ride, in 2011, presenting the character for the first time.[7] She later appeared at the Grand Opening at Disney's Hollywood Studios,[8] as well as in promotional material for the Disney website.[1]
During her live-action appearances, she interacted with the audience in an in-universe manner, as if promoting the launch of Star Tours's first hub on the real-world planet Earth.[5] During the interviews, the actress also made a point of deliberately twitching her eye when mentioning the Galactic Empire and Darth Vader positively.[7]
Appearances
Edit
Notes and references
Edit
↑ 2.0 2.1 According to "The Incredible Journey"—Star Wars Insider 127, p. 48, Star Tours: The Adventures Continue takes place between Star Wars Episode III: Revenge of the Sith and Star Wars Episode IV: A New Hope. In the attraction's queue, the droid G2-9T refers to the secret base of the Rebel Alliance, the Great Temple on Yavin 4. According to Underworld: The Yavin Vassilika, the Rebels only acquired the key to the Great Temple in 1 BBY. The attraction must therefore take place after that.
↑ 3.0 3.1 Star Tours Sneak Peek Event Video Featuring Bree Starlighter. Star Tours Live (April 16, 2011). Retrieved on February 24, 2013.
↑ 5.0 5.1 5.2 5.3 Exclusive Interview with Bree Starlighter: Chief Holocommunications Officer for Star Tours. Star Tours Live (April 18, 2011). Retrieved on February 21, 2013.
↑ 7.0 7.1 7.2 7.3 Brigante, Ricky (May 2, 2011). Video: Star Tours 2 preview interview with C-3PO, R2-D2 and Bree Starlighter at Disney mall tour stop in Jacksonville. Inside the Magic. Retrieved on February 21, 2013.
↑ Brigante, Ricky (May 25, 2011). Video Recap: Star Tours 2 previews at Walt Disney World and Disneyland show the Force is strong with fans. Inside the Magic. Retrieved on February 21, 2013.
External links
Edit