The Bright Jewel system, also referred to as the Ord Mantell system, contained the planet of Ord Mantell and the primary star, Bright Jewel.
Space stations in the system included Nova Orion Station and its twin station Tansarii Point Station, the dangerous asteroid base Station Gamma and the H-5 70 Mining Facility, which was used by the Dynath Miners.[4]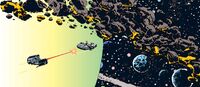 The area known as Darkveil Eclipse served as a central hub of all Black Sun activities in the system during the Galactic Civil War.[4]
Appearances
Edit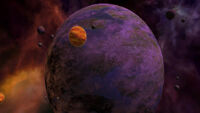 Notes and references
Edit
↑ 1.0 1.1 1.2  Star Wars: The Essential Atlas Online Companion on StarWars.com (article) (backup link)
↑ Star Wars: The Old Republic—Jedi Knight Mission: "New Intelligence" on Ord Mantell
Ad blocker interference detected!
Wikia is a free-to-use site that makes money from advertising. We have a modified experience for viewers using ad blockers

Wikia is not accessible if you've made further modifications. Remove the custom ad blocker rule(s) and the page will load as expected.