Bronagh Gallagher (born 1972) is a singer and actress who portrayed Captain Maoi Madakor in Star Wars: Episode I The Phantom Menace.
Gallagher was born in Derry in Ireland. Being the daughter of music-loving fathers, she grew up with music, dancing with her brother and sisters and becoming a music lover herself. She also learned how to play drums by herself.
Her acting career began at Nazaerth House Primary and St. Mary's College in Creggan, which motivated her to act professionally. When a teenager, she took however non-acting jobs, although only working in vintage clothes and shoe shops. At the same time, she joined Oakgrove Theatre Company.
Gallagher began her career in Dublin theaters, like the Abbey Theatre and the SFX Centre, where she played the likes of Columbia the groupie in The Rocky Horror Picture Show. Her performance on Portia Coughlan was reprised later at the Royal Court of London. Before the end of the 1980s, she had also obtained a little experience on TV, including one of the main roles on Irish series Dear Sarah (1989).
Film career
Edit
Her big break came on 1991 with Alan Parker's The Commitments, as the main chanteuse of the band. After that, she had no problems getting jobs for drama (You, Me & Marley, Richard Spence, 1992) or comedy (TV Over the Rainbow, Declan Lowney, 1993), getting the role of Trudi in Quentin Tarantino's Pulp Fiction in 1994.
But 1994 was quite a busy year for Gallagher. She also acted in the Barbican Theatre of London, for Henrik Ibsen's Peer Gynt, and danced as a performance model for Don Bluth's animation movie Thumbelina.
Not through acting on TV, in 1995 she worked on projects such as Nye Heron's Shadow of a Gunman or David Kane's Ruffian Hearts. She would work with John Malkovich and Julia Roberts on 1996 with Stephen Frears' Mary Reilly, and returned to theatre on 1998 to act on Street of Crocodiles. She also acted with Kelly McGillis on Jon Sanders' Painted Angels (1998) and with Jason Isaacs in David Caffrey's Divorcing Jack (1998).
Her experience was recognized on 1999 with TV series Cry Wolf plus two movies for the big screen: Dudi Appleton's The Most Fertile Man In Ireland and This Year Love, by David Kane (with whom she had previously worked in Ruffian Hearts).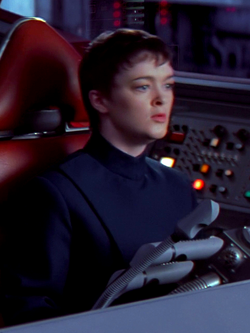 In 1999 she worked in a third movie: Star Wars Episode I: The Phantom Menace. She was the second character to speak, after Qui-Gon Jinn pronounced the first line: "Captain?" she replied, "Yes, Sir?". She was the pilot of the Radiant VII cruiser, who would later be known as Captain Karol or Captain Madakor in the Expanded Universe. Her character would die soon after Qui-Gon's meeting with Nute Gunray when the craft was destroyed by the Trade Federation.
On 2000, she sang added vocals with Andy White and played drums for the album Andy White, and toured with White throughout the United Kingdom and Italy, while at the same time acting in theatre, TV and movies
She took a little break in 2001, acting only in one TV movie, but in 2002 she came back stronger than ever. She acted in TV drama Sinners, for which she was nominated for the IFTA Award to the Best Actress in a Television Drama (She lost the Award to Susan Lynch for Any Time Now), and also appeared on Peter Hewitt's family comedy Thunderpants.
On 2003, Gallagher continued working on both TV and cinema, being heavily awarded for her job. Her role in Ian Fitzgibbon's comedy Spin of the Bottle garnered her a new nomination to an IFTA Award, this time to Best Actress in a Film (lost to Angeline Ball for Bloom). She also appeared in Søren Kragh-Jacobsen's Skagerrak, internationally translated as Sweet Dreams, for which she was nominated as Best Supporting Actress both at the Bodil and the Robert Awards, not being recognized as a winner in any of them.
But she also co-starred in Mark Brozel's TV drama Holy Cross, for which she would get a shared award to the Best Actress (with Zara Turner, also for Holy Cross) in the Biarritz International Festival of Audiovisual Programming.
Gallagher released her first CD, Precious Soul, on 2004, while getting awards and nominations. She began her first UK tour, and also appeared on video documentaries about her role on The Commitments. She has since returned to her usual roles on movie TV's (Hettie MacDonald's Poirot: The Mystery of the Blue Train, 2005) and mainstream movies (Gillies MacKinnon's Tara Road, 2005, with Andie MacDowell; and Kevin Reynolds' Tristan & Isolde, 2006, with James Franco)
External links
Edit