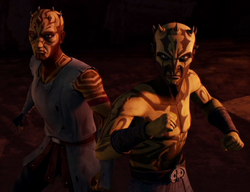 Brother was a title given to all members of the Nightbrothers, a society of male Dathomirian Zabrak subservient to the Nightsisters.
On the misty world of Dathomir, the title of "Brother" was used, regardless of actual kinship, as a form of address for a Nightbrother, alone or followed by his first name.[1]
Notable clan brothers
Edit
Behind the scenes
Edit
This title first appeared in January 2011 in "Monster," the thirteenth episode of the Star Wars: The Clone Wars television series' third season.
Appearances
Edit
Notes and references
Edit
Ad blocker interference detected!
Wikia is a free-to-use site that makes money from advertising. We have a modified experience for viewers using ad blockers

Wikia is not accessible if you've made further modifications. Remove the custom ad blocker rule(s) and the page will load as expected.