Burbank was a destination on Coruscant's subtram in the Coruscant underworld. The name appeared on the subtram map and data screens on train stations. For unknown reasons, the same data screens were also found in Tipoca City on Kamino.
Behind the scenes
Edit
The name was inserted onto the subtram map as an in-joke by the production team, along with the other destinations on the map, referencing the city in California.[1] A similar in-joke was inserted earlier as a destination name in the episode Lightsaber Lost.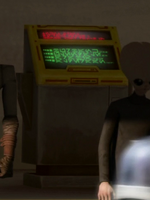 Appearances
Edit
Notes and references
Edit
Ad blocker interference detected!
Wikia is a free-to-use site that makes money from advertising. We have a modified experience for viewers using ad blockers

Wikia is not accessible if you've made further modifications. Remove the custom ad blocker rule(s) and the page will load as expected.