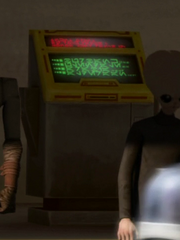 Burbank was a destination on the Coruscant train and subtram. It appeared on a list of stops on a data screen at the train station where Ahsoka Tano and Tera Sinube tracked Ione Marcy and Cassie Cryar. Also listed was Arabia, Ulendale and Alderaan.[1] For reasons unknown, the same data screens were found in Tipoca City on Kamino.[2] The name also appeared on subtram maps on Coruscant.[3]
Behind the scenes
Edit

Burbank
is a city in
California
. The name was inserted onto a
subtram
map as an in-joke by the production team of
Star Wars: The Clone Wars
, along with the other destinations.
[3]
Appearances
Edit
References
Edit
↑ 3.0 3.1  To Catch a Jedi Trivia Gallery on StarWars.com (Slide 4)