"Come on, when have I ever let you down?"
"Very well. The burden is on me not to destroy all the droids until you arrive."
―CC-2224 and Obi-Wan Kenobi
CC-2224, nicknamed "Cody," was a Clone Commander in the Grand Army of the Republic during the Clone Wars. In addition to his military rank as Commander of the 212th Attack Battalion, Cody served as the clone marshal commander of the 7th Sky Corps. Like all clone troopers, he was a clone of Jango Fett—a human bounty hunter and the genetic template of the clone army. As such, Cody was trained to be a loyal soldier of the Galactic Republic. He served at the side of his Jedi superior officer, Jedi General Obi-Wan Kenobi throughout the galactic conflict with the Confederacy of Independent Systems. In that time, Cody and Kenobi formed a friendship based on mutual respect. They participated in many campaigns across the galaxy, often leading the 212th Battalion alongside Jedi General Anakin Skywalker and Clone Captain CT-7567 of the 501st Legion.
In 19 BBY, approximately three years after the Battle of Geonosis, the Jedi High Council assigned Kenobi's battalion the task of ending the war by destroying General Grievous. Having tracked the Supreme Commander of the Separatist Droid Army to the planet Utapau with the help of Clone Intelligence, Cody and his troops engaged the battle droids while Kenobi confronted Grievous in person. In the midst of the Battle of Utapau, which continued to rage after Grievous' demise, Supreme Chancellor Sheev Palpatine instructed Cody to execute Order 66—a secret protocol labeling all members of the Jedi Order enemies of the state. As a result of the commander's programming, Cody obeyed the chancellor without hesitation and attempted to kill his former friend. Whereas most of his brethren succeeded in eliminating their unsuspecting Jedi leaders, Cody was one of the few clones who failed as Kenobi survived and ultimately escaped into exile following the rise of the Galactic Empire.
Biography
Edit
Early life
Edit
Like every other clone trooper, Cody was born and trained on the planet Kamino to serve as a soldier of the Republic.[4] He was under the command of Jedi General Obi-Wan Kenobi and frequently fought alongside him, developing mutual trust and camaraderie as they fought alongside each other. Although Cody was not involved in the first battle of Geonosis,[5] he took part in the Battle of Teth,[6] Second Battle of Geonosis,[5] Battle for Anaxes[7] and other battles during the Clone Wars, up to the end of the war in the Battle of Utapau. With the support and recommendations of General Kenobi he rose to Marshal Commander, the highest rank a clone can hold.[2][8]
Clone Wars
Edit
Battle of Christophsis
Edit
"Skywalker should've attacked by now!"
"Don't worry! He knows the plan."
―Cody to General Kenobi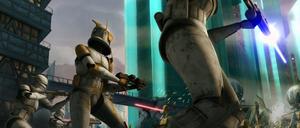 Cody was involved in the battle against a massive separatist invasion of Christophsis and fought alongside Generals Anakin Skywalker and Obi-Wan Kenobi.[9] During the campaign, they were able to root out a traitor amongst themselves; a sergeant by the name of Slick, who had divulged intelligence to Count Dooku's apprentice Asajj Ventress for credits. While Anakin and Obi-Wan were fighting Ventress, Cody and Captain Rex successfully apprehended Slick after a short chase, but not before he managed to sabotage numerous walkers, gunships and other materiel.[10]
Some time after this, Cody was joined on the front lines by Skywalker to defeat the first wave of droids commanded by General Whorm Loathsom but eventually was forced to retreat when the Separatist tanks overwhelmed the republic artillery. Whorm was able to set up a deflector shield that protected the advancement of his forces from the Republic's heavy cannon fire. Skywalker and his newly arrived Padawan Ahsoka Tano were tasked to take down the shield while Cody, Rex, Kenobi and the clones were to hold off the enemy as long as they could. Kenobi allowed himself to be captured and stalled the Separatist general by discussing the surrender in a civilized manner. Right before Whorm had enough of the playing and ordered Kenobi to surrender, Skywalker and Tano took down the shield, allowing the Republic's cannons to tear Whorm's tanks apart. Whorm being distracted by this, was taken hostage by General Kenobi, ending the battle as a Republic victory.[6]
Battle of Teth
Edit
After the Battle of Christophsis, Cody and the 212th Battalion accompanied General Kenobi during his meeting with Jabba the Hutt on Tatooine. He and his men were tasked to assist the 501st Legion, General Skywalker and his apprentice Ahsoka Tano during their mission to rescue Jabba's son Rotta, who had been kidnapped and brought to a Separatist controlled prison on Teth.[6]
Skirmish on Rishi moon
Edit
"Whoa! Rex! What the heck are you doing?"
"Relax. Just as I thought. Looks like one of those new commando droids."
―Cody being shocked by thinking Rex shot one of their fellow soldiers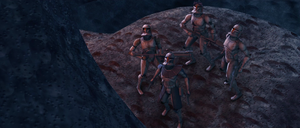 When Cody and Rex were dispatched to inspect the Rishi moon station, they were welcomed by what appeared to be a clone trooper, but in fact was a commando droid appropriating his armor. It tried to get rid of the two by sending them away with their ship, but Rex concluded it was a droid because the droid answered a command with 'roger, roger' and a droid attack flare was fired by surviving base guard clones Hevy, Echo and Fives. Rex realized the reason for the odd behavior and he shot the droid, shocking Cody. They were caught in an ambush set up by the droids in case the disguised droid failed to send the clones away, and the droids proceeded to throw thermal detonators towards the clones. The explosion destroyed their shuttle, but the clones were able to survive by hanging from cables and landing safely on the ground. Later they met the survivors and encountered a Rishi eel that earlier ate Cutup, one of the survivors, which Rex shot and used its blue blood to place his hand print onto Echo's "shiny" armor. The group managed to take back the station and discovered the droids had hard wired an "all-clear" signal to the unsuspecting Republic Navy that would allow General Grievous to attack Kamino and stop the clones' production once and for all. As the clones attempted to disable the all clear signal, droid reinforcements arrived and discovered the clones had survived and retaken the station. The outnumbered clones tried to deactivate the all-clear signal by destroying the station with tibanna liquid and explosives set off by remote detonation, but the detonator jammed; in which Hevy chose to remain and activate it manually. Hevy continued to hold off incoming droids for as long as he could, eventually getting shot in the back. Following his manual detonation, the all-clear signal ceased to broadcast, thereby alerting the Republic fleet of Grievous' presence near Kamino. For this act, Rex accepted the last two survivors into the 501st Legion.[11]
Battle of Ryloth
Edit
"It's not going to be easy getting to those guns, sir."
"There is always a way, Wooley."
―Wooley and Commander Cody
Later in the war, Cody and Ghost Company was sent to Ryloth to free the Twi'leks from the Techno Union leader and Separatist Council member Wat Tambor's oppression. When General Skywalker and his apprentice Commander Tano were able to destroy the blockade surrounding the planet, Cody along with Generals Kenobi and Windu were able to make an almost safe landing onto the planet. However, they then were attacked by anti air guns which Windu tasked General Kenobi and Ghost Company with destroying. Kenobi also reminded the clones that they had come to aid the Twi'leks, not to destroy their homes.[12]
After landing outside of Nabat, Cody and their troopers then took the droids' defense turrets. Cody then took, Wooley, Waxer, and Boil to scout ahead. While Waxer and Boil went off on their own, Cody and Wooley found the cannons and saw that the droids were using the Nabat's survivors as a living shield. After Kenobi spoke with Windu, Cody then signaled Waxer and Boil to return. Cody, Barlex, Kenobi, and the rest of Ghost Company
First Battle of Felucia
Edit
Cody fought at Felucia alongside Rex, Kenobi, Skywalker, Tano and their units. However, they were forced to retreat when the Confederate forces began to surround and overwhelm them. They were able to leave Felucia using General Koon's gunships.[13] Cody accompanied Generals Windu and Kenobi with bounty hunter Cad Bane in custody to his station to retrieve the Holocron and the Kyber memory crystal. Unfortunately, Bane escaped, but Cody was able to get their ship away from the station before it blew up.[14]
Second Battle of Geonosis
Edit
Cody participated in retaking Geonosis. He and his battalion landed at Point Rain to set up the rendezvous point for Generals Skywalker's and Mundi's forces. When Kenobi's gunship was shot down, Cody sent Waxer and Boil to rescue Kenobi and Trapper from the wreckage. Cody and his men held out against the Geonosians and their AATs until Skywalker called in an airstrike. Cody, the Jedi and their clone commanders then planned the attack on the ray shield fortress. Cody and Kenobi brought up the AT-TEs and destroyed the generator after Skywalker and Tano disabled the proton cannons.[5] Cody and one his squads accompanied Kenobi and Skywalker as they investigated the disappearance of General Luminara Unduli and Buzz at the Progate Temple.[15]
Battle of Saleucami
Edit
When Jedi General Eeth Koth was captured by General Grievous, Cody accompanied Kenobi aboard his Jedi light cruiser after learning that Grievous was in the Saleucami system. There, they attacked Grievous's fleet. Once there, their ship was seized by Grievous's destroyer's tractor beam. Cody and his men then stood their ground when Grievous, his magnaGuards, and commando droids boarded the ship. Cody and his men then tried to keep Grievous from leaving the ship. Cody and Kenobi then following Grievous into docking tube as their ship was being destroyed. Cody and Kenobi then met up with General Adi Gallia. However, they could not continue their attempt and were forced to leave the destroyer.[16]
Cody then accompanied Kenobi, Rex and their units to the surface of Saleucami. There, Cody, Kenobi, and Crys then searched the flatland for Grievous.[17]
Skirmish aboard the CoronetEdit
Cody along with Skywalker, Rex, and their troops then accompanied General Kenobi as he continued to protect Mandalore's Duchess Satine Kryze and her entourage during their trip to Coruscant from Death Watch aboard the Coronet.[18] Cody, Rex, and their men checked the cargo hold for anything dangerous. They then found R2 spooked by something and contacted Skywalker. Cody, Rex, and Skywalker then a open container. Cody, Rex, and their men then went to Skywalker's aid when he was attacked by a Assassin probe.[19]
They were able to stop, but one got past them and went into the lift. Cody and the others then came under attack by smaller probe killers, which they were able to destroy. They then questioned the protocol droid in charge of the cargo, who confirmed that one of the senators was a traitor. They then continued their search for more of the probes. When Cody and Rex were under attack by one of the droids, it was dispatched by R2-D2. Cody and Rex then assisted Skywalker in destroying the last of the probe droids. Later, Cody, Rex, Skywalker and the rest of the clones assisted the royal guards in repelling the super battle droids boarding the Coronet. During the skirmish, Skywalker managed to kill the traitor, now revealed to be Tal Merrik, before he destroyed the ship. Cody, Rex, and the royal guards were able to destroy the droids, and Rex subsequently reported their success to Skywalker.[19]
Battle of Tipoca City
Edit
"With all due respect, General, if someone comes to our home, they'd better be carrying a big blaster."
"I concur with Captain Rex, sir. This is personal for us clones."
―Captain Rex and Commander Cody, to Obi-Wan Kenobi
Later in the war the Republic intercepted a coded hologram of Ventress and General Grievous planning an attack on Tipoca City. Cody and Rex along with Generals Kenobi, Skywalker and the 501st Legion were sent to reinforce General Shaak Ti's forces on Kamino. When General Grievous' droid fleet arrived, Cody was overseeing the battle along with Masters Ti and Kenobi, Prime Minister Lama Su and other clone officers, but later joined Rex, Echo, Fives and clone 99 when Ventress' aqua droids carried by Tridents had attacked Tipoca City from underwater. Cody later helped the other clones along with cadets to set up an ambush for Grievous and his droids that were clearing out the barracks, while Kenobi engaged Grievous in a short duel. While the clones were battling the incoming droids, 99 tried to run back to the armory to resupply the clones whom Cody ordered him to stop, but due to his slowness was ultimately shot in the back. Following the separatist defeat, in addition to Grievous and Ventress fleeing the system, the loss of 99 was mourned and he was acknowledged by his comrades as a true soldier. Later, Fives and Echo were promoted to ARC troopers.[20]
Battle of Lola Sayu
Edit
Cody was then part Skywalker's and Kenobi's assault team assigned to infiltrate the Citadel on Lola Sayu to rescue Master Even Piell before the Confederacy got information about the Nexus Route. Thus, he and the others were put into carbonite to avoid the sensors.[21]
Battles of Umbara and Kiros
Edit
Cody, Kenobi, and their battalion were then sent to retake Umbara[22]. There they were able to take the capital, despite Krell secretly sabotaging their efforts.[23]
Cody then went with Kenobi to Kiros. There he received a message from Confederate commander, Darts D'Nar to discuss terms of surrender. Cody, Skywalker, and Tano then listened in on Kenobi's negotiations with D'Nar, claiming he planted bombs all over the city. After D'Nar detonated one of the bombs, Cody and R2 guided Skywalker and Tano to the bombs locations. They were successful in disarming the bombs.[24]
Rescue on Florrum
Edit
When Tano was kidnapped from her group of Jedi younglings aboard the Crucible[25], Cody went with Kenobi to pick up the younglings and rescue Tano from Captain Ohnaka's gang of pirates. However, they then came under attack by a Confederate fleet under General Grievous. When Grievous's forces took control of the Negotiator, Cody and Kenobi activated the self-destruct and fled with what remained of their forces to the escape pods.[26]
Cody, Kenobi, and their men then met up Tano and the younglings after they escaped with Ohnaka from Grievous.[27] Cody then attended the Republic strategy conference at the Valor space station in the Carida system.[28]
Battle for Anaxes
Edit
Cody then fought alongside, Skywalker, Rex, Kenobi and Windu during Admiral Trench's campaign to take Anaxes's shipyards. During the battle, Cody and Rex deduced that Trench had somehow gotten a hold of Rex's strategy algorithm and Jedi General Mace Windu ordered them to take a small squad of Clone troopers behind enemy lines to infiltrate the Separatists Cyber center. Cody then recommended a Clone Commando team known as Clone Force 99 to accompany him and Rex to investigate the Confederate's cyber center. However, Cody was injured in their gunship's crash and was left behind with Kix.[7] Following the Republic's victory on Anaxes thanks to Clone Force 99, Rex and Echo, Cody was present at the Anaxes celebration ceremony beside Astromech droids. [29]
Working with the Dark Disciple
Edit
Kenobi: "Can you give chase?"
Cody: "Sorry, sir, that's a negative, my leg's been snapped like a twig."
Anakin: "We'll get you patched up, Cody, don't you worry. Those slippery, slimy…"
―Commander Cody was the sole survivor of Vos and Dooku's escape from the Vigilance
Towards the end of the Clone Wars, Commander Cody took part in a mission to raid a Separatist supply storage base that contained medications, arms, ship repair parts, and foodstuffs. For this mission, Commander Cody worked with the Jedi Kenobi, Anakin, Desh, and Quinlan Vos. Unknown to Cody and his colleagues, Vos had turned to the dark side and was secretly working with Count Dooku to sabotage the Republic's war effort. Upon arriving, Vos quickly "discovered" that the retreating Separatist forces had planted bombs throughout the entire asteroid. Cody and his colleagues managed to evacuate the asteroid but were unable to extract the supplies, which were destroyed with the asteroid.[30]
Later, Commander Cody took part in another joint Jedi-Republic operation to destroy a Separatist listening post on Vanqor. Under General Kenobi's orders, Cody divided his squadron into teams and sent them to scout the facility. Upon arriving there, Cody and his Clone and Jedi comrades discovered that the listening post had already been abandoned. As a result of this incident, the Jedi High Council came to suspect that Master Vos was a traitor. To test his loyalty to the Jedi and the Republic, they sent Vos on a mission to kill Count Dooku.[30]
Vos managed to infiltrate Dooku's dreadnought in space but failed to kill the Count. He wanted Dooku to lead him to his mysterious master Darth Sidious and then kill the two Sith Lords. However, Master Kenobi and the Jedi Knight Anakin had tailed him there and arrested both Vos and Dooku. Master Kenobi then contacted Cody and Desh, who were aboard the Venator-class Star Destroyer Vigilance and informed them that they were bringing back Vos and Dooku as prisoners. When Desh asked the Clone Commander how many troops they should bring to the hangar, Cody joked about sending two hundred men.[30]
Instead, Cody handpicked two dozen of his best Clone troopers to meet the prisoners once they had landed on the brig. As a precaution, Cody also stationed clones every couple of meters between the hangar bay and the brig. Cody was also accompanied by Desh and another Jedi Knight named Kav Bayons. Despite being outnumbered, Quinlan managed to turn the table on his captors by tricking Desh into approaching him and then stealing his lightsaber. Vos then used the lightsaber to free Dooku's bonds. After seizing Bayon's lightsaber, Dooku cut down one Clone escort and then "Force-threw" Cody down the corridor. After killing both Kav, Bayons, and all the other Clone troopers, Vos and Dooku escaped the Vigilance on Asajj Ventress' ship Banshee. Cody survived the fight but sustained a broken leg. While Anakin and Obi-Wan pursued the fugitives on Christophsis, Cody stayed behind to recover aboard the Vigilance.[30]
End of the war
Edit
"Commander Cody, the time has come. Execute Order 66."
"Yes, my lord."
―Supreme Chancellor Palpatine to Cody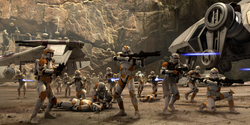 During the Battle of Utapau, Cody received Order 66 from Darth Sidious, publicly known as Supreme Chancellor Palpatine.[2] Regardless of having served under Kenobi, Cody's allegiance was abolished by his bio-chip.[1] The order triggered the clone protocol within his genetically implanted bio-chip,[31] and Cody immediately turned against Kenobi, ordering his forces to fire on the Jedi Master, blasting him with a shot from an All Terrain Tactical Enforcer. Kenobi survived, however, becoming one of the few Jedi to escape the destruction of the Jedi Order.[2] Fifteen years after the rise of the Galactic Empire, many of the codes and emergency protocols that Cody and Rex had come up with during the Clone Wars were still used by the Empire. [32]
Equipment
Edit
During the first year of the Clone Wars, Cody used a set of Phase I clone trooper armor, which featured a visor, an antenna on his helmet an antenna on his shoulder, a small flood light, and orange stripes, which was a color used by many of the other members of the 212th. He had lamps on helmet at Geonosis.[15] Later, when Phase II clone trooper armor was created Cody wore a similar set, but had a few changes. The changes were; two gray stripes coming down the sides of the top of his helmet, a small tool attached to the upper arm piece, one antenna on the shoulder pads with one on the back of his helmet, and a smaller, oval shaped jetpack. This also featured a visor and orange markings.[2] Cody also had a Imperial-like rank markings adorning the left side of his breast-plate, which signify his rank of Clone marshal commander. 
Personality and Traits
Edit
Commander Cody was a no-nonsense commander who always took the mission seriously. His personality was very much like Obi-Wan Kenobi and was thus able to become close friends with him. Cody was calm, conservative, and resourceful, he was an ideal soldiers and loyal to the Republic. Cody's friend Rex, however was more unorthodox and creative. Like Anakin and Obi-Wan, this allowed them to balance each other out and become a formidable duo. Cody was also very by-the-books, as he never disobeyed an order from his superiors. The Commander was also a great leader, as he was able to lead one of the best clone forces in the Grand Army. His battlefield exploits were also admirable, as he was able to earn respect from clone troopers and Jedi alike.
Skills and Abilities
Edit
Commander Cody was a competent and adept field commander. His knowledge and skill on the battlefield has even earned him the rank of Marshal Commander, the highest clone rank in the Grand Army. Cody has displayed impressive close combat, as shown several times when he punches, kicks, and slams droids instead of using his blaster. He was also skilled in hand-to-hand combat, as he was able to get the upper hand on Sergeant Slick during a fight. The Commander was extremely proficient with blasters, ranging from long range to short range. He was able to accurately hit a fuel tank that was launched from Obi-Wan, and he was able to head shot many droids.
Commander Cody was also an experienced commander, as he was able to formulate plans and execute them very well. Before the Second Battle of Geonosis, he informed the Jedi Generals of the plan that would eventually lead to victory. During the time of the Empire, Cody and Rex's emergency protocols were still being used by the Imperials.
Behind the scenes
Edit
Commander Cody made his first canonical appearance in Star Wars: Episode III Revenge of the Sith film and was played by Temuera Morrison who played all of the other clone troopers in the movie. [2] He later appeared in the Star Wars: The Clone Wars featured film along with its subsequent television series Star Wars: The Clone Wars in the first, second, third, fourth and fifth seasons voiced by Dee Bradley Baker. He later appeared in the third issue of the Star Wars: Darth Maul—Son of Dathomir comic series which adapted an unproduced arc from the sixth season of The Clone Wars. He also appeared in "The Bad Batch"[7] and "Unfinished Business", which were unproduced episodes for season seven which were adapted into story reel and screened at Star Wars Celebration. Cody also appeared in the novel Dark Disciple which adapted eight part arc that was originally to appear in season seven.[30]
Appearances
Edit
Non-canon appearances
Edit
Notes and references
Edit