CSL (SEE eh sel) Danenberger was a Force-sensitive Human from the planet Kyrouac.
Biography
Edit
He had always dreamed of becoming a Jedi Knight, though he was thought of as crazy by his fellow Kyrouaquians. When the Rebel Alliance sent diplomats to his planet in an attempt to get them to supply them with food supplies, it was CSL who warned them of the treachery of one of the Kyrouaquian High Councils members. After he informed them of this, they agreed to take him off the planet where he was thought to have joined the rebels.
Appearances
Edit
Notes and references
Edit
↑

This is converted from 6ft.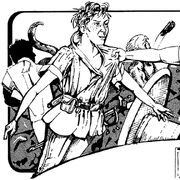 Ad blocker interference detected!
Wikia is a free-to-use site that makes money from advertising. We have a modified experience for viewers using ad blockers

Wikia is not accessible if you've made further modifications. Remove the custom ad blocker rule(s) and the page will load as expected.