Cantham House
Talk

1
103,590pages on
this wiki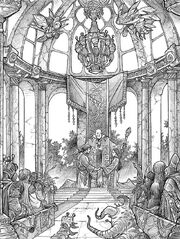 Cantham House was the Alderaanian embassy on Coruscant.
During the time of the Galactic Empire, it was the location of a set of meetings between Bail Organa, Mon Mothma, and Garm Bel Iblis that led to the creation of the Alliance to Restore the Republic. At that time, it was also Bail Organa's residence on Coruscant. It contained the White Room and was 200 kilometers from the Aldereenian Consulate.
In 8 ABY it was the location of the wedding of Han Solo and Leia Organa. Prior to her wedding, Leia Organa also lived in an apartment at the consulate.
Behind the scenes
Edit
The naming of Cantham House is likely influenced by the Royal Institute of International Affairs, an organization focused on international relations and regarded for its independence from government influence. The Institute's building is named "Chatham House", and the term is commonly used to refer to the organization. The organization's Chatham House Rule appears to have a strong influence on the scripting of scenes cut from Revenge of the Sith where Mothma makes it clear the importance of secrecy related to the names of dissident senators.
Appearances
Edit