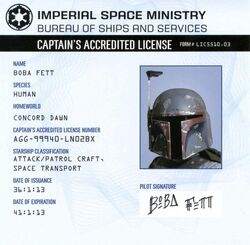 A Captain's Accredited License was an official document registered with the Bureau of Ships and Services. It provided authentication that a pilot was certified to operate and fly a specific starship. As of the Galactic Civil War, it cost 200 credits. To obtain one, a person would have to undergo a piloting check and have ten years piloting experience. This experience requirement could be waived with an additional 300 credit payment known as an "expediter fee".
Ad blocker interference detected!
Wikia is a free-to-use site that makes money from advertising. We have a modified experience for viewers using ad blockers

Wikia is not accessible if you've made further modifications. Remove the custom ad blocker rule(s) and the page will load as expected.