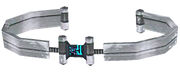 The cardio-regulator was a belt designed to enhance the fortitude of its wearer. It actively monitored heartbeat and breathing, and should either of them become irregular, it would release chemicals into the body to stabilize them.
Appearances
Edit
Ad blocker interference detected!
Wikia is a free-to-use site that makes money from advertising. We have a modified experience for viewers using ad blockers

Wikia is not accessible if you've made further modifications. Remove the custom ad blocker rule(s) and the page will load as expected.