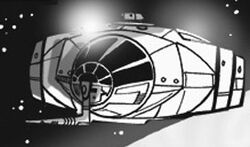 The Casuistic was a freighter, likely manufactured by the Corellian Engineering Corporation, at some point prior to 19 BBY. At this time, Ekria piloted the vessel through the Corellian sector, apparently to bury the last Jedi she would ever know.
Appearances
Edit
Ad blocker interference detected!
Wikia is a free-to-use site that makes money from advertising. We have a modified experience for viewers using ad blockers

Wikia is not accessible if you've made further modifications. Remove the custom ad blocker rule(s) and the page will load as expected.