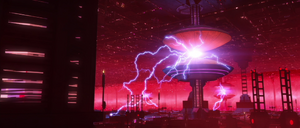 The central power distribution grid was located 5,000 levels down from the surface of Senate District on Coruscant. It provided electrical power to the city-world, going to many districts, including the Senate Building. In 21 BBY, this facility was destroyed by General Grievous' demolition droids.
Appearances
Edit
Ad blocker interference detected!
Wikia is a free-to-use site that makes money from advertising. We have a modified experience for viewers using ad blockers

Wikia is not accessible if you've made further modifications. Remove the custom ad blocker rule(s) and the page will load as expected.