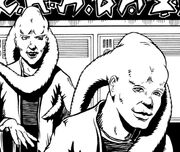 Chabak's was a gambling den located in the Sector Alpha of the Zirtran's Anchor space station. It's original owner, Chabak, disappeared along with the rest of the station's original inhabitants whien the station vanished mysteriously. Upon its reappearance, Chabak's gambling den was taken over by two of his relatives—Padda and Quink.
Chabak's offered sabacc, motion rounder and other types of games as well as refreshments in the shape of drinks mixed by an especially skilled droid mixocologist. Padda and Quink ran a continuous house wager: if anyone could name a drink that the droid could not make, all drinks would be on the house for an entire week. There were several challengers, but no winners—except the droid mixocologist.
Ad blocker interference detected!
Wikia is a free-to-use site that makes money from advertising. We have a modified experience for viewers using ad blockers

Wikia is not accessible if you've made further modifications. Remove the custom ad blocker rule(s) and the page will load as expected.