Chad
Talk

15
103,468pages on
this wiki
Chad
Astrographical
Region
Sector
System
Suns
Moons

9[2]

Grid coordinates

R-7

Rotation period

20 Standard Hours

Orbital period

380 Local Days

Physical
Class

Terrestrial

Atmosphere

Type I

Climate

Hot

Gravity

Standard

Primary terrain
Surface water

Moist

Societal
Native species
Immigrated species
Primary language(s)
Government

Anarchistic clans, local ranches

Population

20,000,000 Chadra-Fan, 15,000 Humans

Major imports

Homestead supplies

Major exports

Bildog and proop meat, unusual mechanisms

Affiliation
The planet Chad[2] (also known as Chadra,[4] or Chad III[3]) was the homeworld of of the Chadra-Fan race. It was in the Outer Rim Territories,[1] more specifically in the Slice.[5]
Description
Edit
Chad was a watery planet, with extensive marshes and bayous. Chadra had nine moons, and had a very elliptical orbit, giving rise to a complex tidal cycle. Due to its unusual orbit, it was at different times either the third or fourth planet in orbit of the blue-white star Chad.[6] It had no axial tilt, however, making the climate relatively stable.[2]
Chad was discovered as early as the Mandalorian Wars,[7] but never joined the Galactic Republic. However, it was later represented in the New Republic Senate.
The native Chadra-Fan, an arboreal race, dwelt in simple dwellings in the tops of the bayous' cyperill trees. They did not bother to make elaborate homes, as they knew their dwellings could be destroyed at any time by the hurricanes and tsunamis which their planet was prone to. In 10 BBY, a tsunami and groundquake wiped out much of their civilization.[2]
Chad was also home to a Human population. The Jedi Knight Callista Ming was one of the Humans born on Chad. The Human colonists lived in oceanic ranches aboard large arks.[3]
Chad was home to many animal species, including:
Behind the scenes
Edit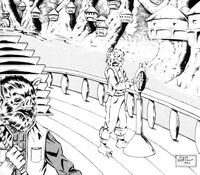 The name of this planet, and its position in its system, is unclear. While its first mention in Galaxy Guide 4: Alien Races calls it Chad, and places it as the fourth planet in its system, Children of the Jedi calls it Chad III. The Essential Guide to Alien Species later resolved the problem by introducing Chad's eccentric orbit, which makes it either the third or fourth planet in the system at different times in its year.
Play It Again, Figrin D'an: The Tale of Muftak and Kabe refers to the Chadra-Fan Kabe as a native of the planet Chadra. This may be an alternate name for Chad, or a separate Chadra-Fan colony. This would have to be in another system, since Galaxy Guide 4 points out that Chad is the only inhabited planet in its system.
Appearances
Edit
Notes and references
Edit
↑ 5.0 5.1 5.2 5.3 5.4 5.5 5.6 5.7 "A Free-Trader's Guide to the Planets"—Star Wars Adventure Journal 10
↑ Chadra-Fan appear in Star Wars: Knights of the Old Republic II: The Sith Lords