"To the Chamber of Judgment, summon Skywalker and his Padawan."
―Yoda
The Chamber of Judgment was a room within the Jedi Temple that acted as a courtroom for the Jedi Order.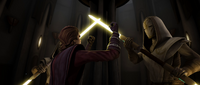 Around 20 BBY, the apprehended Padawan Ahsoka Tano was bought to this room for her trial. The Jedi Masters that trialed her were Grand Master Yoda and Jedi Masters Plo Koon, Obi-Wan Kenobi, Mace Windu, Shaak Ti and Ki-Adi-Mundi. Tano's master, Anakin Skywalker, was present at the trial along with two of the Temple Guards. Tano was found guilty, and was stripped of her battlefield privileges as well as her Padawan braid signifying the loss of her Padawan status and was expelled from the Jedi Order.
Appearances
Edit
Ad blocker interference detected!
Wikia is a free-to-use site that makes money from advertising. We have a modified experience for viewers using ad blockers

Wikia is not accessible if you've made further modifications. Remove the custom ad blocker rule(s) and the page will load as expected.