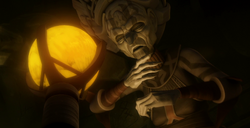 "Choono slalem denni tay'lori olee-ay. Lucheno vadem klavlane. Blenay vedi nalem koreem. Blenay vedi nalem koreem. Villos susko kono lamal! Vlemon tagoo!"
―Old Daka
The Chant of Resurrection was a powerful dark spell of Dathomir Magic that could temporarily resurrect the dead, so long as the caster remained active. Old Daka, the oldest of the Nightsisters, used this spell to reanimate the mummified corpses of deceased Nightsisters to bolster Asajj Ventress's army during the Battle of Dathomir. Once Daka was killed by General Grievous, the spell wore off immediately, and the dead returned to their natural state.
Like all Nightsister magicks, the spell appeared as a green mist.
Appearances
Edit
Ad blocker interference detected!
Wikia is a free-to-use site that makes money from advertising. We have a modified experience for viewers using ad blockers

Wikia is not accessible if you've made further modifications. Remove the custom ad blocker rule(s) and the page will load as expected.