"Chatter" was the nickname of a rookie radio communications clone trooper who participated in the Second Battle of Geonosis. [2]
Behind the scenes
Edit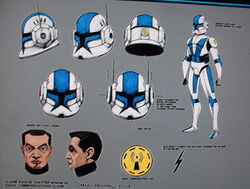 Chatter was slated to appear in "Landing at Point Rain", the fifth episode of second season of Star Wars: The Clone Wars. However, he was cut from the finished episode.[2]
Concept art and several animatics featuring Chatter were later made available in the Jedi Archives section on the first disk of Star Wars: The Clone Wars The Complete Season Two.[2]
Notes and references
Edit