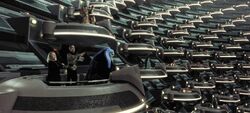 Chrissie England was the Visual Effects Executive Producer of Industrial Light & Magic for The Phantom Menace. She was also a member of the Administrative Staff for Return of the Jedi.
She had a small cameo in the theatrical release of The Phantom Menace, as a Human member of Orn Free Taa's delegation in the Galactic Senate. However, the character was replaced with a Twi'lek aide for the DVD release.
In February 2006, she along with George Lucas was awarded a National Medal of Science and Technology by United States President George W. Bush, for ILM's technological innovations.
Ad blocker interference detected!
Wikia is a free-to-use site that makes money from advertising. We have a modified experience for viewers using ad blockers

Wikia is not accessible if you've made further modifications. Remove the custom ad blocker rule(s) and the page will load as expected.