Chuzalla was a backwater planet located within the Chuzalla system of the Outer Rim Territories. It was a haven for criminals.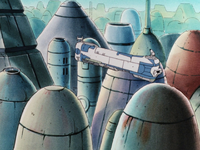 The planet had a spaceport that acted as a transfer point between Tammuz-an and a branch of the Imperial Academy. The Starhunter's Intergalactic Menagerie used the spaceport of Zallakesh as a stop-over site upon returning from the outer galaxies.[2]
The starship outlet Honest Tobar's Used Spacecraft was located in Zallakesh. During a stop-over on Chuzalla while on a journey to the Imperial Academy, Coby had his pet, Ingey, taken by the Starhunters and bought a Blackhawk Destroyer at Tobar's to chase after them.[2]
Appearances
Edit
Notes and references
Edit
↑ 1.0 1.1 1.2 1.3  Star Wars: The Essential Atlas Online Companion on StarWars.com (article) (backup link)
External links
Edit
Ad blocker interference detected!
Wikia is a free-to-use site that makes money from advertising. We have a modified experience for viewers using ad blockers

Wikia is not accessible if you've made further modifications. Remove the custom ad blocker rule(s) and the page will load as expected.