Classic Star Wars: A Long Time Ago... #1 is the first volume in the Dark Horse Comics black-and-white collections of the original Marvel Comics series of comic books.
Publisher's summary
Edit
This is the first of a six-volume series that collects black-and-white reprints of the Marvel Star Wars comics from the early '80s. The first volume of the series features issues #91, King-size Annual #1, and Annual #3.
Collected issues
Edit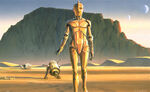 Ad blocker interference detected!
Wikia is a free-to-use site that makes money from advertising. We have a modified experience for viewers using ad blockers

Wikia is not accessible if you've made further modifications. Remove the custom ad blocker rule(s) and the page will load as expected.