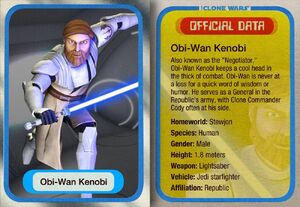 Clone Cards is an application on StarWars.com, featuring flash-based cards containing information about characters from the Clone Wars television series. The cards are fashioned after trading cards, and feature new maps and personages as new episodes are released. The cards in general cover the main characters of the series. The front of each card shows an image of the character, while the back displays the character's information. The cards are color-coded depending on the character's political affiliation: blue for the Galactic Republic, red for the Confederacy of Independent Systems, and purple for characters who hold a neutral stance in the war.
Appearances
Edit
Characters
Creatures
Droid models
Events
Locations
Organizations and titles
Sentient species
Vehicles and vessels
Weapons and technology
External links
Edit
Ad blocker interference detected!
Wikia is a free-to-use site that makes money from advertising. We have a modified experience for viewers using ad blockers

Wikia is not accessible if you've made further modifications. Remove the custom ad blocker rule(s) and the page will load as expected.