Clone cold assault troopers were a specialized division of clone troopers within the Grand Army of the Republic during the Clone Wars, equipped with modified armor and equipment to withstand the harsh climates of arctic planets.
Characteristics
Edit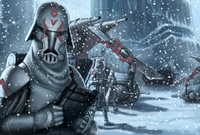 As the name indicates, cold assault troopers were specially trained for battle and survival in extremely cold regions. Their specialized armor was specifically designed for protection to the wearer in extremely low temperatures and to allow for effective operations within this environment.
Clone snowtroopers under Commander Mag were deployed on the icy world of Orto Plutonia, where they were tasked with testing subzero gear such as the Freeco bike. After the outpost was wiped out by the Talz, another clone cold assault task force from the 501st led by Captain Rex was sent to investigate, accompanied by Jedi Generals Anakin Skywalker and Obi-Wan Kenobi.[1]
Behind the scenes
Edit
The armor of clone cold assault troopers is similar in appearance to Imperial snowtrooper armor, mostly the chest plate and kama and the Clone flame trooper except white.
Appearances
Edit
Notes and references
Edit
External links
Edit
Ad blocker interference detected!
Wikia is a free-to-use site that makes money from advertising. We have a modified experience for viewers using ad blockers

Wikia is not accessible if you've made further modifications. Remove the custom ad blocker rule(s) and the page will load as expected.