Clone jumptroopers were clone troopers equipped with a Jump Pack, DC-17 hand blaster, and missile launcher.[2] Clone jumptroopers were present during the Battle of Geonosis.[1]
Behind the scenes
Edit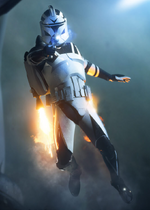 Clone jumptroopers are one of the specialist Republic units in the 2017 video game Star Wars Battlefront II.
Clone troopers using jumpacks have appeared in Star Wars: The Clone Wars TV series, but nothing has yet connected them to the jumptroopers. Until the 2017 reference book Star Wars: On the Front Lines in which it identified them as Jet pack troopers[3]
Appearances
Edit
Notes and references
Edit
Ad blocker interference detected!
Wikia is a free-to-use site that makes money from advertising. We have a modified experience for viewers using ad blockers

Wikia is not accessible if you've made further modifications. Remove the custom ad blocker rule(s) and the page will load as expected.