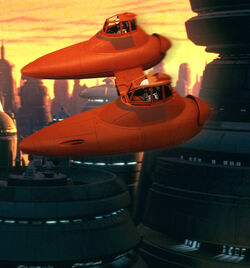 "If you can bribe a member of Bespin's Wing Guard into taking you on a spin around Cloud City, you won't regret spending your credits. The views are stunning."
―Excerpt from Ullok's Underground Guide to Bespin
Cloud cars were small, atmospheric craft used for various purposes. Manufacturers of cloud cars included Bespin Motors, Ubrikkian Yards, and Bakur RepulsorCorp. They were a common sight in Cloud City on Bespin.
Appearances
Edit
Ad blocker interference detected!
Wikia is a free-to-use site that makes money from advertising. We have a modified experience for viewers using ad blockers

Wikia is not accessible if you've made further modifications. Remove the custom ad blocker rule(s) and the page will load as expected.