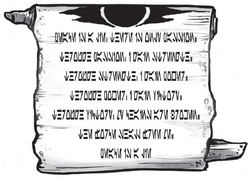 "Through victory my chains are broken. The chains. The chains are the easy part. It's what goes on in here that's hard."
―Darth Maul, reciting part of the Sith Code
The Code of the Sith, also known as Qotsisajak,[1] was a mantra that expressed the core beliefs of the Sith. It was an inversion of the Jedi Code, a set of rules for members of the Jedi Order. It notably taught its followers that it is for the strong to destroy the weak.[2]
Peace is a lie. There is only Passion.
Through Passion I gain Strength.
Through Strength I gain Power.
Through Power I gain Victory.
Through Victory my chains are Broken.
The Force shall free me.
[1]
In some versions of the Code, the initial line "Peace is a lie" was repeated after "The Force shall free me."[2]
Appearances
Edit
Notes and references
Edit
Ad blocker interference detected!
Wikia is a free-to-use site that makes money from advertising. We have a modified experience for viewers using ad blockers

Wikia is not accessible if you've made further modifications. Remove the custom ad blocker rule(s) and the page will load as expected.