Coffee was a non-alcoholic beverage that was most often served extremely hot and made from a specific type of bean.
Emperor Palpatine owned farms on various planets that provided the beans to produce high quality coffee and vine-coffee, solely for the use of his court.
Coffee could be prepared and dispensed from a coffee machine, and was usually served in a coffee cup.
Behind the scenes
Edit
During a discussion of the Death Star with the Emperor, Darth Vader, Wilhuff Tarkin and other high-ranking Imperial personnel, Wilhuff Tarkin drank some.
Appearances
Edit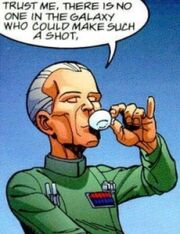 Non-canon appearances
Edit
External links
Edit
Ad blocker interference detected!
Wikia is a free-to-use site that makes money from advertising. We have a modified experience for viewers using ad blockers

Wikia is not accessible if you've made further modifications. Remove the custom ad blocker rule(s) and the page will load as expected.