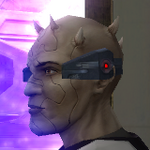 A sophisticated visor that was used during the Old Sith Wars, the combat sensor was a modified version of the Spacer's sensor which employed targeting software that had prediction algorithms to direct the user's gaze in combat, increasing efficiency during battle. However, due to their construction, Wookiees were unable to use these tools.
Appearances
Edit
Ad blocker interference detected!
Wikia is a free-to-use site that makes money from advertising. We have a modified experience for viewers using ad blockers

Wikia is not accessible if you've made further modifications. Remove the custom ad blocker rule(s) and the page will load as expected.