"I have good news and bad news, Colonel. The bad news is, scans are picking up giant ice formations commonly called 'comets' heading straight for us."
―WAC-47 to Meebur Gascon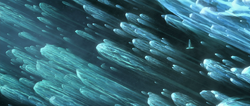 Comets were chunks of rock and ice floating through space.
Eons before the Battle of Endor, a comet named Kinro was predicted to destroy several Core planets. The comet was destroyed before it reached the Mid Rim, and its destruction was attributed to the Jedi Order.[1]
During the Clone Wars, Colonel Meebur Gascon and D-Squad encountered a comet storm near the planet Abafar.
Appearances
Edit
Notes and references
Edit
Ad blocker interference detected!
Wikia is a free-to-use site that makes money from advertising. We have a modified experience for viewers using ad blockers

Wikia is not accessible if you've made further modifications. Remove the custom ad blocker rule(s) and the page will load as expected.