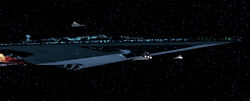 "Your work here is finished, my friend. Go out to the command ship and await my orders."
―Emperor Sheev Palpatine, to Darth Vader
A command ship was a vessel which served as the flagship of a fleet. Command ships were typically larger and better armed than other warships. The Invisible Hand served as the command ship of General Grievous during the Battle of Coruscant.[1] The Executor-class Star Dreadnought Executor was the command ship of Darth Vader during the Battle of Hoth[2] and the Battle of Endor.[3]
Appearances
Edit
Notes and references
Edit
Ad blocker interference detected!
Wikia is a free-to-use site that makes money from advertising. We have a modified experience for viewers using ad blockers

Wikia is not accessible if you've made further modifications. Remove the custom ad blocker rule(s) and the page will load as expected.