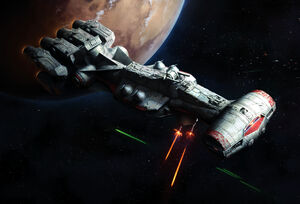 The corvette was a class of warship. They were typically small, fast, maneuverable and relatively lightly-armed. Generally large enough to be considered a capital ship but smaller than a frigate, corvettes filled a variety of roles that ranged from picket duty within large fleets to system defense and convoy escort.
The most ubiquitous model of corvette was the CR90 corvette, the most famous example of such being the Tantive IV. The vessel served as the consular ship for Princess Leia Organa on her mission to Tatooine to convince Obi-Wan Kenobi to join the Alliance to Restore the Republic. Corvettes saw action with nearly all space navies throughout the history of the galaxy.
Corvettes filled a comparatively inexpensive gap in the capital ship range of rebel, pirate, smuggler, and mercenary fleets and armadas. They were suitable for dealing with any ships smaller than themselves, and though they were not effective against larger ships without support, many were famous for outrunning and escaping them, thanks to their exceptional speed and maneuverability for a capital ship.
Appearances
Edit
Ad blocker interference detected!
Wikia is a free-to-use site that makes money from advertising. We have a modified experience for viewers using ad blockers

Wikia is not accessible if you've made further modifications. Remove the custom ad blocker rule(s) and the page will load as expected.