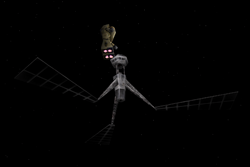 Commsat-6 was a communications satellite owned and operated by the Galactic Empire during the years of the Galactic Civil War. It was vitally important to Antan Azzameen, who planned to use the satellite to spy on the Azzameen family company's rivals Viraxo Industries and their communications with the Empire. Following an Alliance attack on the communications center carried out by an Alliance squadron which Ace Azzameen was a part of, the satellite's wiring was damaged; Aeron Azzameen used this damage to install a listening device at Antan's request.
Appearances
Edit
Ad blocker interference detected!
Wikia is a free-to-use site that makes money from advertising. We have a modified experience for viewers using ad blockers

Wikia is not accessible if you've made further modifications. Remove the custom ad blocker rule(s) and the page will load as expected.