Compact Assault Vehicle/wheeled PX-10
Talk

1
110,088pages on
this wiki
CAVw PX-10[1]
Production information
Manufacturer
Model

Compact Assault Vehicle/wheeled PX-10

Class

Tracked

Technical specifications
Length

5.1 meters[1]

Maximum speed

260 km/h[1]

Armament

Medium blaster cannon (1)

Crew
Passengers

none[2]

Cargo capacity

100 kilograms[1]

Consumables

2 weeks[2]

Usage
Role(s)

Heavy cavalry

Era(s)
Affiliation
"A Compact Assault Vehicle doesn't necessarily signal the presence of an Imperial base. It probably means just the opposite. The Empire uses these one troop vehicles on undeveloped worlds that aren't occupied territory. One trooper in a CAV can control a lot of territory."
The Compact Assault Vehicle/wheeled PX-10 was a one-man, land-based vehicle, armed with a medium blaster cannon mounted on a turret.[1] Designed to maximize the potency of a single Imperial trooper, it allowed remote worlds deemed ineligible for full-scale invasions to still know the Empire's military might, for it was considered equivalent to the firepower of an entire squad.[1]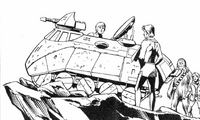 Operated by only one person and aided by a sophisticated auto-pilot system that, when necessary, allowed the pilot to devote himself wholly to combat, it also solved the problem of Imperial forces spreading themselves too thin.[1] In fact, to further save on manpower, it could even be piloted by a droid. However, in many cases these advantages could be negated, as the CAV's intricate computer technology was susceptible to sensor jamming. When this occurred, the CAV assistance programs were rendered inoperable, leaving its pilot confused and disoriented.[1]
Though thus threatened by high-tech enemies, the PX-10 was more than a match for the more primitive subject worlds of the Empire, seeing use throughout Galaxy.[1] These units were used to great success during the suppression of uprisings in the Core and Colonies regions, as well as throughout the First Galactic Civil War and Imperial Mutiny.[3] Unfortunately for Imperial commanders, there was often a shortage of soldiers trained to efficiently use them.[3] In time, this inspired development of increased automation eventually leading to the creation of the XR-85 tank droid.[3]
Behind the scenes
Edit
The CAVw PX-10 was first introduced in the First Edition of Imperial Sourcebook, receiving its first appearance in Timothy Zahn's 1992 novel Dark Force Rising. The Second Edition of the Imperial Sourcebook provided expanded statistics.
Appearances
Edit
Notes and references
Edit