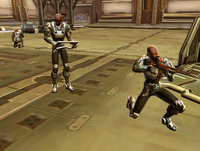 The Coronas was a street gang on Coronet City at the time of the Galactic War. When the Sith Empire invaded Corellia the Coronas sided with the Sith and cooperated to cripple the Corellian resistance during the Battle of Corellia but they were driven out of the Blastfield Shipyards region when Officer Danod of the Corellian Security Force enlisted the aid of the Republic forces on the planet. They were secretly guided by the Corellian Councilor Harmon Torvix.
Appearances
Edit
Ad blocker interference detected!
Wikia is a free-to-use site that makes money from advertising. We have a modified experience for viewers using ad blockers

Wikia is not accessible if you've made further modifications. Remove the custom ad blocker rule(s) and the page will load as expected.