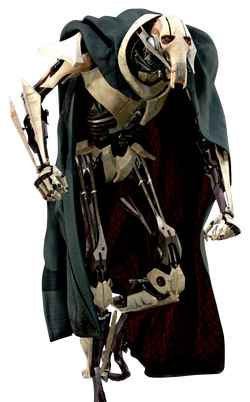 "He's more machine now than man, twisted and evil."
―Obi-Wan Kenobi describes Darth Vader's cybernetics
A cyborg was any living, organic being, sentient or not, whose body was enhanced with machine parts. Cybernetic augmentation was an invasive process that changed a being's brain functions and physiology in significant ways, so much so that it was usually irreversible.[1]
Cybernetic technology could be used to help repair a body or sustain a life to varying degrees. Luke Skywalker received a cybernetic hand after losing his original hand in a lightsaber duel,[2] while almost the entirety of General Grievous' body was replaced by cybernetic limbs and other body parts.[3] After falling to the dark side and becoming Darth Vader, Anakin Skywalker was severely burned on Mustafar, requiring him to live in a cybernetic suit of armor for the rest of his life.[4] The Zero Angle cantina had a cyborg bartender, Florn.[5]
Appearances
Edit
Non-canon appearances
Edit
Notes and references
Edit
Ad blocker interference detected!
Wikia is a free-to-use site that makes money from advertising. We have a modified experience for viewers using ad blockers

Wikia is not accessible if you've made further modifications. Remove the custom ad blocker rule(s) and the page will load as expected.