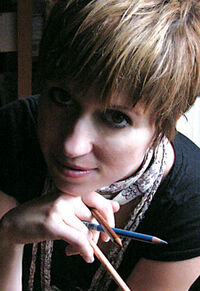 Cynthia Narcisi (nee Cummens) is a freelance artist that draws cartoons from Star Wars.
Her work can be seen in Star Wars Insider, on Topps trading cards (Heritage, ROTS, 30th Anniversary and Star Wars Galaxy Series 4) and on the Learn to Draw feature on the official Star Wars website.
External links
Edit
Ad blocker interference detected!
Wikia is a free-to-use site that makes money from advertising. We have a modified experience for viewers using ad blockers

Wikia is not accessible if you've made further modifications. Remove the custom ad blocker rule(s) and the page will load as expected.